CoinsPaid 2022 Annual Round-Up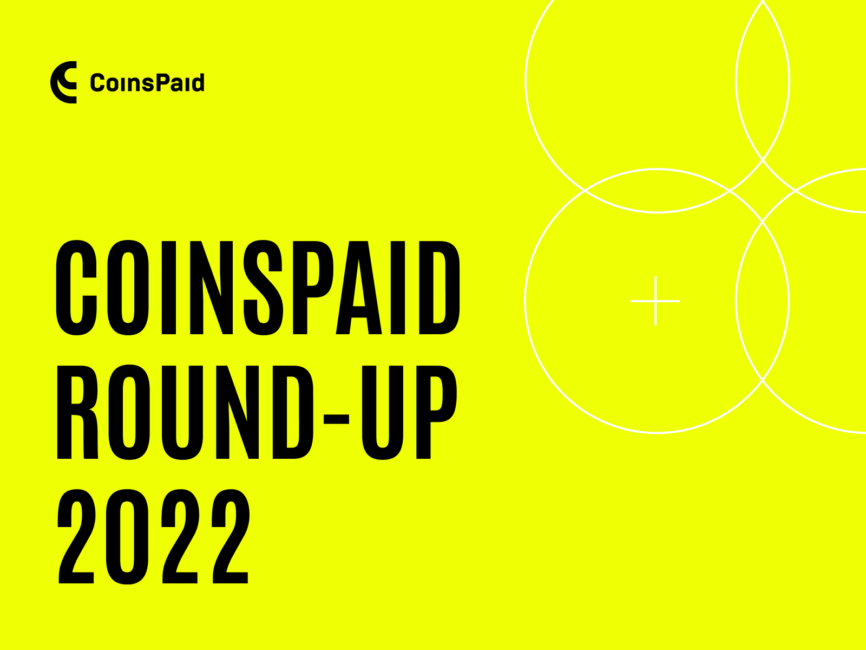 2022 has been quite a year for the global economy. While in 2021, we have witnessed the crypto market thrive and Bitcoin hit its all-time high, 2022 will be associated with the financial markets' downturn amid the global economic crisis.
The cryptocurrency industry, viewed as a high-risk one, took a significant hit. The total capitalization has shrunk from a $3 trillion dollar record to $1 trillion, while BTC has lost over 60% of its value.
Still, we are here to assure you that the crypto market is not going anywhere, as it has already become an irreplaceable part of the global economy. The vast majority of experts still believe in the long-term prospects of crypto, while the adoption rates are on the up.
As far as CoinsPaid goes, the past two years have been jam-packed with adventures and new highs: CoinsPaid media was launched, our IDO for the CPD token was successfully passed, Rising Stars support was initiated, our personal wallet was moved to an open Beta testing stage, and the CoinsPaid Academy finished development.
In this annual round-up, we want to share CoinsPaid's most significant achievements of 2022 and show how we have managed to grow as a business and as a team during the most challenging times in crypto history.
CoinsPaid Dynamics: 2021 vs 2022
Despite the negative news sentiment, surging inflation, and a decline across the majority of the financial markets, crypto payments remain unaffected.
At CoinsPaid, the leading crypto payment gateway, we didn't register any decrease in interest in cryptocurrency payments among businesses. On the contrary, we are observing a steady quarterly growth in processing volumes and the number of transactions.
Numbers don't lie: businesses and individuals are choosing crypto as an instant, cheap, and borderless payment method despite the market downturn.
In total, CoinsPaid has processed €19 billion in crypto, while the overall number of processed transactions has reached 34 million.
We Continuously Improved Our Products
Our primary goal has always been to provide the best possible crypto experience for businesses and individuals. Thus, over 100 people incessantly work on improving CoinsPaid products, making them even more user-friendly, convenient, and full-fledged.
Our primary offering, CryptoProcessing.com, has gone through a range of improvements over the past year. Let's take a quick overview of the main ones:
The key focus of Q1 was our Liquidity Aggregator integration, which allows CoinsPaid to provide fast and low-cost payments for our merchants and their clients at best-in-class rates.
In Q2, we aimed to optimise our Back office, which usually remains unseen. Now, you'll notice a dark theme and a score chain integration.
Q3 was lively, with a range of new SaaS integrations. We also expanded the applicability of our product and made it more accessible and easier to integrate with popular CMSes.
Lastly, there was a marked delisting of unused tokens and currencies. As of now, we support 22 crypto assets and 41 fiat currencies available for instant exchange. In addition, EUR and USD can be withdrawn to the client's bank account via transfer.
This now brings us to Q4, where we've seen Spanish localisation for invoices, we've moved to CGT events, there's now much more manual work automatization, and we're gearing up for our 2022 audit.
CryptoProcessing.com has certainly come a long way since its inception. Over the past year alone, we've doubled the size of our B2B team — now consisting of 24 best-in-class professionals. Due to such an improvement, we've seen the number of production incidents decline by 9.5 times. Network expenses have also been reduced by 7 times, enabling us to further enhance our partner discount schemes. 220 features were shipped, and 443 bugs were fixed — it's been a good year for the team.
Our Crypto Wallet for individuals has also witnessed some changes over the past year:
We notably implemented fiat withdrawals and deposits, so now our users can top up or withdraw directly from the app, adding to the convenience of our service.
Moreover, we've improved our mobile analytics, meaning that we can build dashboards in Amplitude, understanding user behaviour and collecting useful metrics regarding product interaction.
We also managed to greatly reduce the number of bugs in the system when it comes to key functionalities, such as sending and receiving crypto — all in the app.
Lastly, we expanded the team working on our crypto wallet in line with its continually increasing market popularity.
But it's not just the mobile app that went through some major changes. The web version saw:
More functionalities added on the backend, such as changes to KYC limits and levels.
The arrival of a new and improved architectural solution that allows users to purchase crypto from their bank cards.
Enriched analytics with data on user actions such as on the most popular currencies used, user conversion and drop-off rates.
We Amplified Brand Awareness through Media Efforts
This year, we went through a major rebranding. Over the years, our platform has grown into an ecosystem of products to better fulfil the mission of satisfying the world's everyday needs using crypto. New products have been added to make CoinsPaid complete and address people's needs in both business and everyday life.
Thus, rebranding was a natural step for CoinsPaid to celebrate the status of a multi-product company. Although our new website is still in the work, we already have integrated a new brand identity and use it across multiple communications channels, from conferences to social media posts.
We also focused on growing our brand awareness and strengthening our community via media efforts. In 2022, we received 3,304 brand mentions:
1,542 in various media
1,762 in social media accounts.
Our estimated audience reach is 6.9 million people. Moreover, CoinsPaid appeared in top-tier media publications, including:
And, of course, we shouldn't forget the AMA session with our CEO on Cointelegraph, where Max Krupyshev argued that the crypto winter is the hottest time to onboard new talent.
We also ought to mention our continued partnership with the ARIS Limassol football club, which began almost three years ago. CoinsPaid saw the hidden potential of the club and decided to provide the necessary support in the form of a sponsorship. As a result, ARIS was able to acquire new coaching staff and improved infrastructure. As far as marketing efforts go, we secured 175 branded photos via viral activity, and designed merchandise for a joint fan shop, while several campaigns have already been planned in 2023.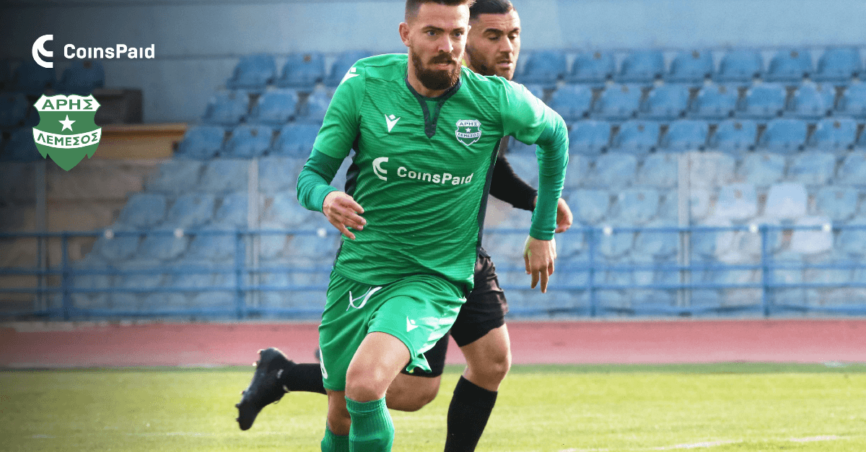 CoinsPaid Media Hit Major Milestones
This year was momentous for the CoinsPaid Media team as it was their first. Editors worked around the clock shipping up-to-date news and articles. The Academy column was the project's calling card, featuring all formats of content in a way that no one else does. Here is a brief recap of major 2022 milestones for CoinsPaid Media:
656 news published;
266 articles & expert columns written;
47 YouTube videos created and posted;
The 197,000 reader mark was reached;
And, our basic crypto course was developed on Udemy;
We Hired Over 120 People
It's fair to say that the crypto community was shaken by the mass layoffs in 2022. Some major crypto companies were forced to cut 20-50% of their employees to keep pace with the market decline.
Thus, one of our top priorities was to ensure the growth of the CoinsPaid team and a stable working environment. We saw:
A 79% increase in our team's size;
127 new employees;
Across 24 countries.
During the last quarter of 2022, we held one of the most memorable corporate events in our company's history — the CoinsPaid Camp in Georgia. The team spent three unforgettable days in the beautiful Georgian hotel Ambassadori Kachreti. The team also had the chance to visit various workshops, as well as enjoy leisure activities such as professional golf, relaxing in the spa, swimming, horse riding, bowling, and basketball.
We Acquired 182 New Clients
Even though the bears put quite a lot of pressure on crypto investors in 2022, digital assets still remain a popular payment option. Being the #1 crypto gateway in terms of processed volumes, CoinsPaid onboarded 182 new merchants across various industries.
The one partnership you have likely heard about regards Mirai Flights, a UK-based service for the easy and convenient booking of charter flights on private planes in Europe and the Middle East. The integration of our crypto gateway allowed Mirai to increase revenue by 30%, attract new crypto traffic, and secure a better check-out experience for fliers.
We Participated in 56 Crypto Events
Being an active part of the global crypto community, we regularly partake in key conferences and summits. 2022 began for CoinsPaid with trips to the Middle East for the WOW Summit and Sigma AIBC, where our CEO, Max Krupyshev, shared his insights on the developing crypto market. Following a rapid start to the year, top managers attended Finnovex Qatar, where CoinsPaid earned its first Crypto Payment Solution of the Year award.
We also took part in the Web Summit 2022 which was held in Lisbon, one of the largest events dedicated to digital technologies, fully covering the Web 3.0 sphere and going far beyond. It attracted not only a huge number of guests, but also leading representatives from business, finance, and government-related spheres.
CoinsPaid organised two independent events in Georgia targeted at the strengthening of the global IT community. IT HighRise, held in December 2022, helped tech professionals and developers expand their professional skills and knowledge. The event turned out to be very successful, gathering speakers' presentations, business representatives, and opinion leaders from all around the world. One of the event's main goals was to provide networking opportunities for the attendees and increase awareness about the CoinsPaid brand.
2022: Summing Up
There is no denying that the past year has been very stressful for the global crypto community, but we're only looking forward. We have no doubt that despite everything, 2023 will be a successful year for us in terms of business and team growth. We will continue to facilitate the mass adoption of crypto payments and showcase their benefits to companies and individuals through CoinsPaid Media. Onwards and upwards!
Disclaimer. All financial, statistical and other data regarding the clients/merchants, conducted transactions, etc., has been provided as aggregate from activities of all legal entities operating under brand of Coinspaid, specifically: (I) Dream Finance OÜ, Harju maakond, Tallinn, Kesklinna linnaosa, Kai tn 4, 10111, Estonia; (II) Dream Finance UAB, Gynejq St. 14-65, Vilnius, Lithuania and (III) Dream Finance S.A. DE C.V., 3A Calle Poniente Y, 71 Avenida Norte, Col. Escalon, edif. Lexincorp, office No 3698, San Salvador, El Salvador.