CoinsPaid Q1 2023 Update: What Has Been Achieved?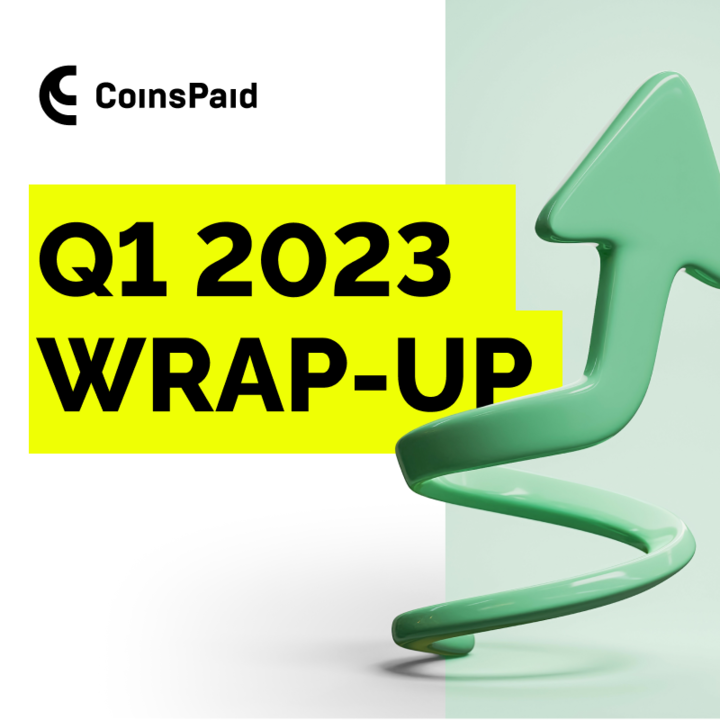 2023 has been challenging for the global finance community so far. We have already witnessed the collapse of three major American banks, forcing the government to take extraordinary measures and authorise some significant loans to mitigate the fallout.
As for the crypto market, we are still in the bear cycle, although the unreliability of the banking system drives investors to digital assets once again.
Still, regardless of the negative news sentiment and current challenges, CoinsPaid continues to grow, improve its products and services, and contribute to the crypto mass adoption and awareness.
We Processed Over €23 Billion in Total Volume
As a leading crypto gateway, we are observing an increased interest in digital asset payments from businesses worldwide.
Totals
Volume: CoinsPaid processed €23 billion in crypto.
Transactions: CoinsPaid processed 41 million transactions.
Quarters
Volume: In Q1 2023, CoinsPaid processed 14% more crypto volume than in Q4 2022.
Transactions: In Q1 2023, CoinsPaid processed 9% more transactions than in Q4 2022.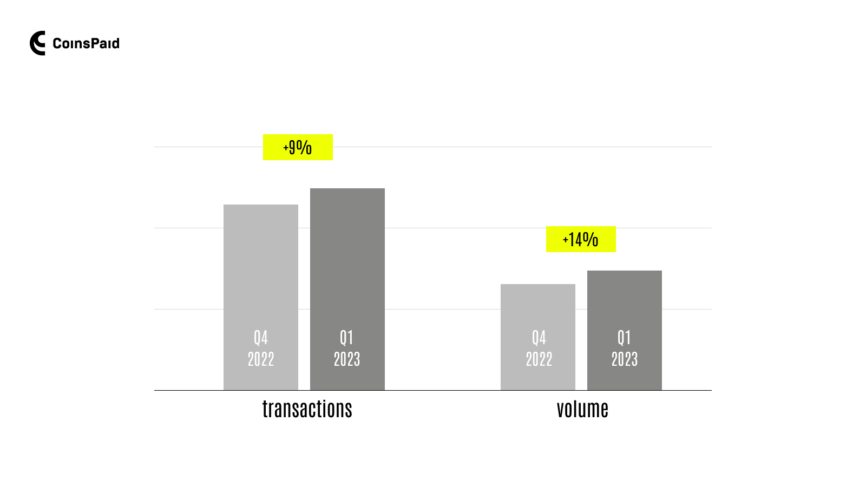 Volume: In Q1 2023, CoinsPaid processed 38% more crypto volume than in Q1 2022.
Transactions: In Q1 2023, CoinsPaid processed 41% more transactions than in Q1 2022.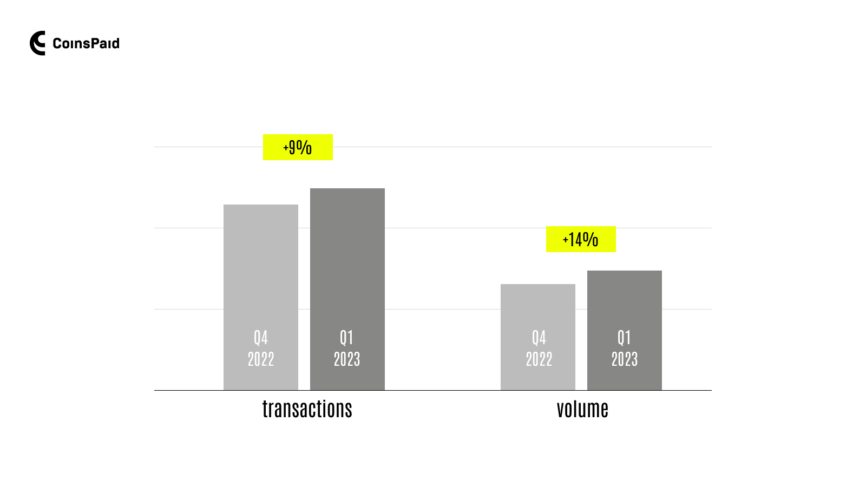 We Visited Crypto Events and Conferences
This year, CoinsPaid managers continue to attend conferences worldwide and successfully represent the company. 2023 began with a short stop at the NRF show in New York, primarily focusing on retail and e-commerce. Soon after, we headed straight to one of the most significant events in the world — ICE London.
ICE London
ICE London is a leading global iGaming, which gathered over 13,300 attendees. Fifteen CoinsPaid managers came to the UK capital this year. On the first day, our Lead Sales Manager, Taras, gave a presentation on "Payments in the high-risk sector. Insights from the leading processor".
On the second day, CEO Max Krupyshev took the stage with an expert opinion on the evolution of cryptocurrencies in iGaming and shed light on the development of AI technologies, the use of ChatGPT in operations, and features of CoinsPaid's customer service.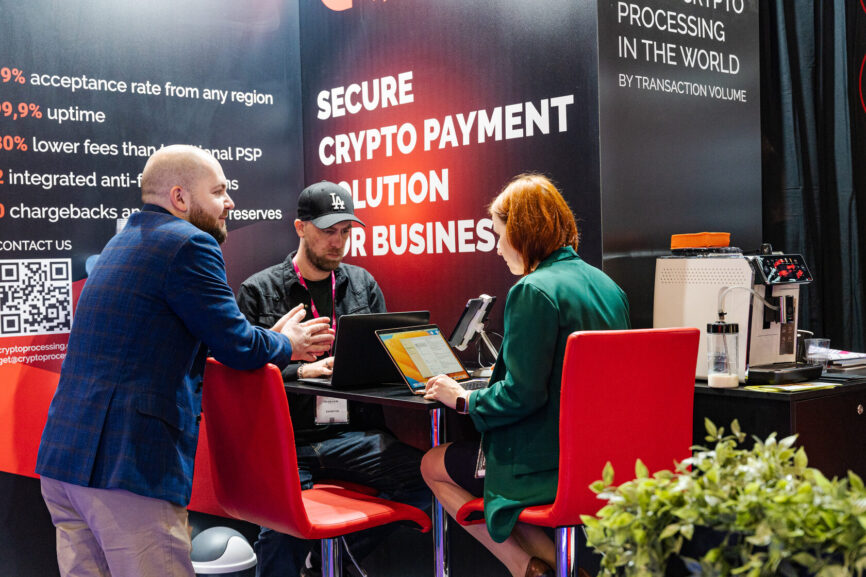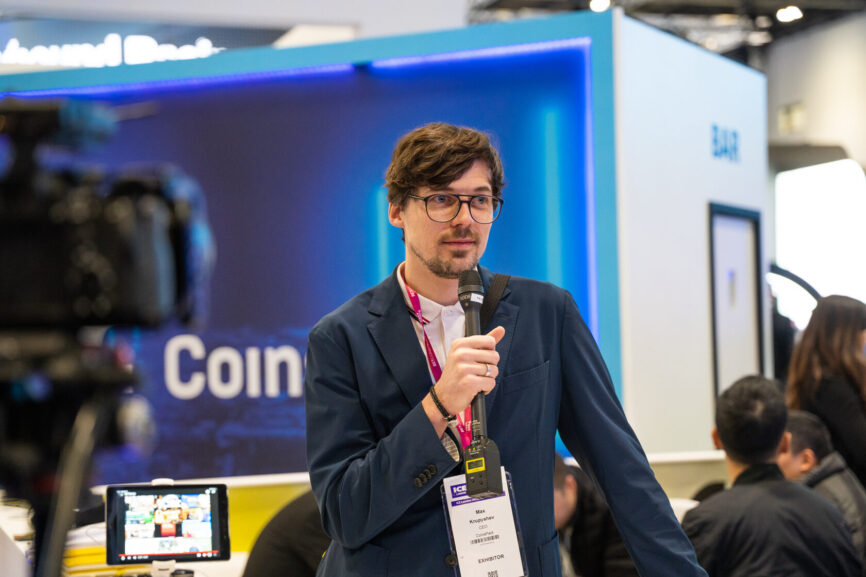 We Created Educational Crypto Course
CoinsPaid Media prepared an educational course for CoinsPaid, designed for a complete immersion into cryptocurrency topics. The Crypto Course will be equally interesting for those with no knowledge about cryptocurrencies and those with experience in the field.
"We initially planned to prepare an educational course for internal use, but the result turned out to be so awesome that we wanted to share this course with everyone interested. On top of that, educational materials promote the development of the crypto market, which is also something we are interested in," commented Max Krupyshev, CEO of CoinsPaid.
So if you are looking for high-quality crypto educational content that's easy to grasp, reliable and relevant — check out CoinsPaid Free Crypto Course.
We Improved Our Products
Of course, one of our main priorities is maintaining and improving the quality of our platform and its services.
In order to increase the conversion of invoice payments, we improved our Invoice Payment forms by making it clear what standard should be used during the deposits and making users' notifications more transparent.
We also delivered functionality and automated operational activities to improve our clients' service. As a result, our support team is now able to be more proactive and solve client requests faster.
On top of that, we added the VERSE (ERC-20) token to supported assets.
Last but not least, our dev team also optimised the flow of fiat deposits for our clients.
Further-more
We will continue regularly informing you about CoinsPaid updates, accomplishments and plans. Make sure to follow us on social media to stay tuned!