CoinsPaid is back to processing after being hit by a hacker attack. Client funds were not affected and are fully available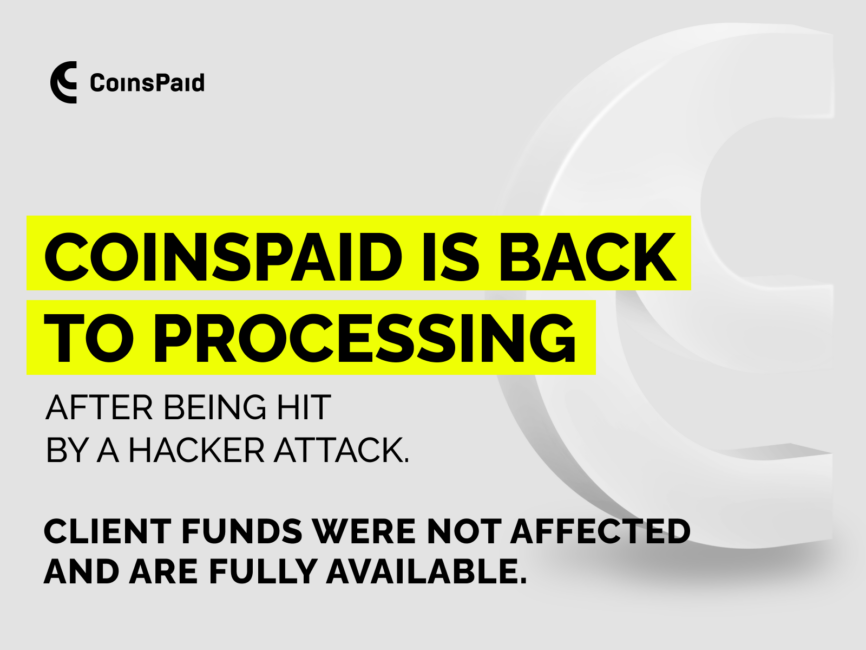 On July 22nd, CoinsPaid experienced a hacker attack, resulting in the theft of USD 37.3M. We suspect Lazarus Group, one of the most powerful hacker organisations, is responsible. Its list of victims also includes the world's top companies: Sony (USD 81M), Axie Infinity (USD 625M), Horizon Bridge (USD 100M), Atomic Wallet (USD 100M) and Alphapo (USD 23M).
We believe Lazarus expected the attack on CoinsPaid to be much more successful. In response to the attack, the company's dedicated team of experts has worked tirelessly to fortify our systems and minimise the impact, leaving Lazarus with a record-low reward. Indeed, our security measures and procedures allowed CoinsPaid to prevent higher loss of funds.
As the number-one priority, we ensured that customer funds stayed intact. Unfortunately, the attack influenced our platform's availability, and the company's revenue was also impacted.
"After the partial downtime, our services are getting up and running one by one in the new secured environment. We expect it to take a few more days to sort out minor details and ensure the system works smoothly", underlines Max Krupyshev, CoinsPaid CEO.
CoinsPaid immediately initiated an investigation to track and mark stolen funds via various blockchain analytics tools. We sincerely thank the crypto community for being considerate and proactive. Companies such as Crystal, Chainalysis, Match Systems, Valkyrieinvest, Staked.us, OKCoinJapan, Binance, and many more are aiding us with the investigation.
"CoinsPaid will recover and continue delivering first-class innovative payment solutions despite the incident. We have no doubt the hackers won't escape justice", added Max Krupyshev.
CoinsPaid has filed an official report with the Estonian law enforcement agency on July 25th and is committed to cooperating with the investigation process. As the world strives for trust, transparency and reliability in the financial system, such incidents enable the crypto industry to become more stable and efficient.
Within a few weeks, CoinsPaid will organise a round table with all the Lazarus victims to announce a new initiative aimed at minimising and preventing such attacks in the future. We urge Binance, Kraken, Coinbase, Bitfinex, OKX and others to participate in this vital process.
Contact: incident@coinspaid.com
About CoinsPaid
CoinsPaid is a crypto payment ecosystem enabling businesses to accept cryptocurrencies. Aside from a crypto payment gateway, the ecosystem includes a business wallet, OTC desk, SaaS solution, and CoinsPaid Media. CoinsPaid counts over 230 employees from 30 countries and operates in Europe and Latin America.