CoinsPaid January 2023 Update: What Has Been Done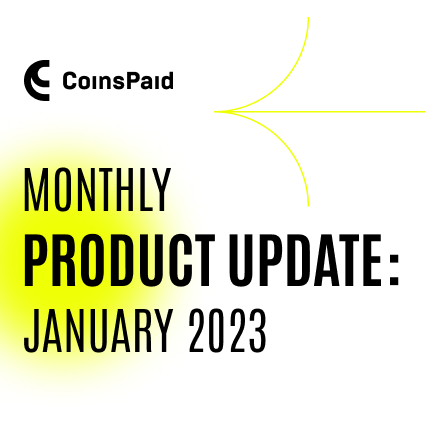 As we wave goodbye to the first month of 2023, the CoinsPaid steam train rolls on. Wheels greased, coal in the firebox, and plenty of water in the tank — we've seen updates on all fronts. Let's take a look.
What's new with CryptoProcessing.com?
Notably, in January, we passed our most recent Hacken security assessment with flying colours. Our Web infrastructure has been labelled as 'High' security, and we're proud to show off! This specific audit analysed our:
Intelligence gathering activities against targets;
Service detection and identification;
Vulnerability detection, verification, and analysis;
Exploitable vulnerabilities.
Whereas Hacken would usually be providing recommendations aimed at addressing security weakness,"the overall rating of CoinsPaid's Applications, stands out to be 10 out of 10".
Aside from yet another successful security audit, we also focused on developing better conditions for BSC (Binance Smart Chain) operations:
Fees were lowered even further;
Minimum limits for both deposits and withdrawals were optimised.
What's New with Crypto Wallet?
Moving across to our Web Crypto Wallet, the headliner relates to our fiat deposit service with brand new infrastructure. Moreover, we created a command for the manual exchange of delisted currencies.
We've continued to work on our transactions service:
Split logic to customers;
Added a status to balance transactions;
Added the 'amount' component to the Purchase Crypto form.
On the front end, clients are already enjoying our sidebar redesign with an additional 'Buy' button. Moreover, refractor logs can now be accessed easily.
As for the Crypto Wallet App, we've made some additional usability improvements:
Now, specifically on our iOS offering, the 'Confirm' button won't be available on the 'Change Password' screen until the input of the 2-factor authentication code.
Whereas previously, when a user wanted to change a password, they would have encountered an error message while pressing the Confirm button without the input of a 2-FA code, now, everything is much simpler — speeding up the process and preventing confusion.
In addition, we've performed some code refactoring to make it more readable for developers.
We've fixed a range of bugs, tech debt, and now, we'll show error messages when deleted / invalid contacts are requested, and when a user tries to delete already deleted / invalid contacts.
And that's it! Onwards into February – we'll see you this time next month for a brand-new roundup.